50 francs BELGIUM (1958) EXPO'58 (French)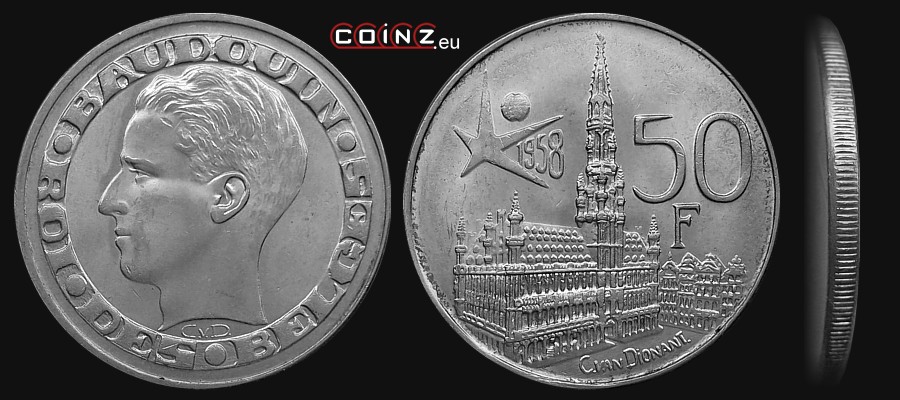 | | | | |
| --- | --- | --- | --- |
| diameter: | weight: | thickness: | alloy: |
| 30.0 mm | 12.5 g | 2.15 mm | Ag835 |
obverse:
in the coin centre head of King of Belgium facing left; along the top edge: • BAUDOUIN • ; along the bottom edge: ROI • DES • BELGES (Baudouin - King of the Belgians in French)
reverse:
in the coin centre Brussels city-hall; in the top left part an emblem of EXPO '58; on the right in two lines face value: 50 / F (FRANCS)
designer:
Carlos van Dionant (initials C.v.D. under King's neck on the obverse and signature C.VAN DIONANT. along the bottom edge of the reverse)
mint:
De Koninklijke Munt van België (in Dutch) / La Monnaie Royale de Belgique (in French) (The Royal Belgian Mint), Brussels
interesting facts:
EXPO '58 - World Fair, which took place in Brussels in 1958. For the purpose of the fair building called Atomium was constructed, which is today's symbols of Brussels. The Atomium is shown on another Belgian circulation coin - commemorative
2 euro from 2006.
We are presenting a photo of the gothic city-hall in Brussels and an emblem of EXPO '58.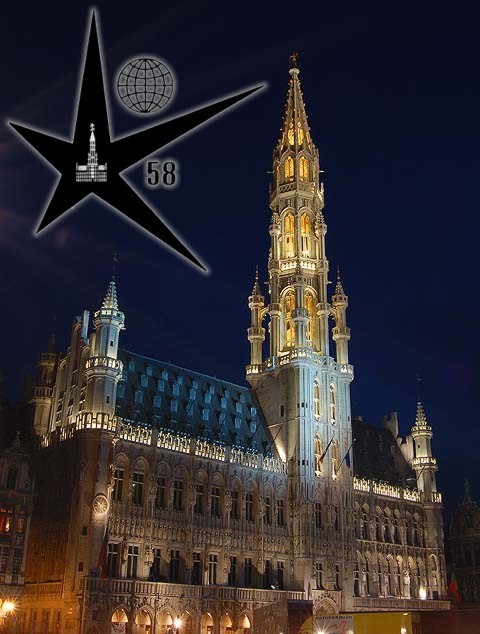 photo of the Brussels Town Hall - Luc Viatour; licence: CC-BY-SA 3.0
coins catalogue :: katalog monet :: münzkatalog :: catalogue de monnaies :: catálogo de monedas :: catalogo monete :: каталог монет :: κέρματα κατάλογος :: COINZ.eu
© 2010-2018 :: Adam Kubicki :: COINZ.eu :: All rights reserved.