25 øre DENMARK (1960-1967)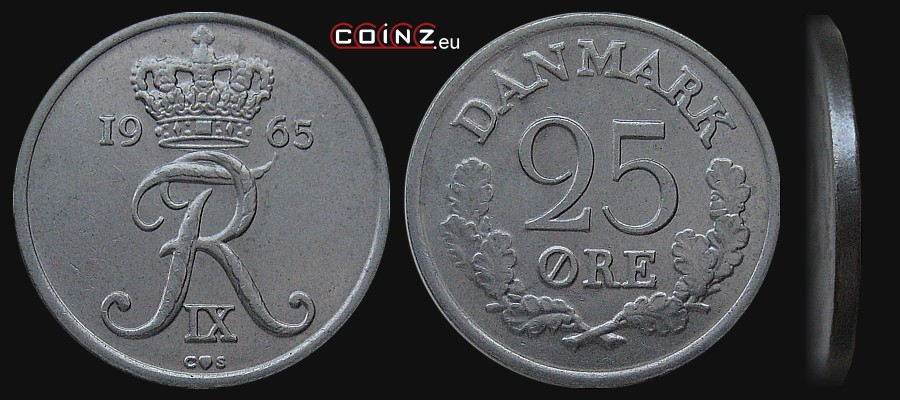 | | | | |
| --- | --- | --- | --- |
| diameter: | weight: | thickness: | alloy: |
| 23.0 mm | 4.5 g | 1.5 mm | CuNi |
obverse:
in the coin centre the monogram of King Frederick IX of Denmark; above the crown of Christian V divides the year of issue
reverse:
in the centre in two lines face value: 25 / ØRE; along the top edge: DANMARK (Denmark); along the bottom edge two oak branches
withdrawal date:
1 X 2008
mint:

Den Kongelige Mønt (The Royal Mint), Copenhagen (mint mark on the bottom of the obverse; before the mint mark the initial of mint's director Christiansen C; after the mint mark the initial of chief engraver Salomon S)
mintage:
1960
< 3 452 560
C♥S
mintage together with coins of the older type
1961
20 859 924
C♥S
1962
10 048 770
C♥S
1963
2 513 880
C♥S
1964
6 174 645
C♥S
1965
13 492 443
C♥S
1966
< 50 219 634
C♥S
mintage together with coins of the newer type
1967
< 87 467 798
C♥S
mintage together with coins of the newer type
mint and privy marks:
Except for the period 2002-2013 on Danish coinage next to the heart - the mint mark of the Royal Mint of Denmark, also initials of mint's directors (usually before the heart) and of main engravers (usually after the heart) were placed. Thus the following combinations are found on the modern coins:
N♥S, C♥S, S♥S, S♥B, B♥B, R♥B, NR♥JP, LG♥JP, JS♥HW
. Let's meet the people standing behind these initials:
mint directors


chief engravers
N
1927-1955
Niels Peter Nielsen
S
1933-1968
Harald Salomon
C
1956-1971
Alfred Frederik Christiansen
B
1968-1983
Frode Bahnsen
S
1971-1978
Vagn Sørensen
JP
1989-2001
Jan Petersen
B
1978-1981
Peter Bjarnø
HW
from 2014
Henrik Wiberg
R, NR
1982-1989
Niels Nørregaard Rasmussen
LG
1989-2001
Laust Grove
JS
from 2014
Jørgen Strandgaard
interesting facts:
The official monogram of King Frederik IX of Denmark contains the crown of King Christian V. This regal attribute graced the heads of all the Danish kings from 1670 until 1840. Today the crown is held in the former residence of the kings of Denmark - Rosenborg Castle (now a museum). It is used nowadays only during the royal funerals (in castrum doloris).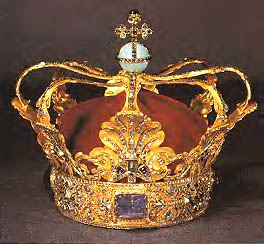 coins catalogue :: katalog monet :: münzkatalog :: catalogue de monnaies :: catálogo de monedas :: catalogo monete :: каталог монет :: κέρματα κατάλογος :: COINZ.eu
© 2010-2021 :: Adam Kubicki :: COINZ.eu :: All rights reserved.