20 kroner DENMARK (1997) 25 Years of Queen Margrethe's II Reign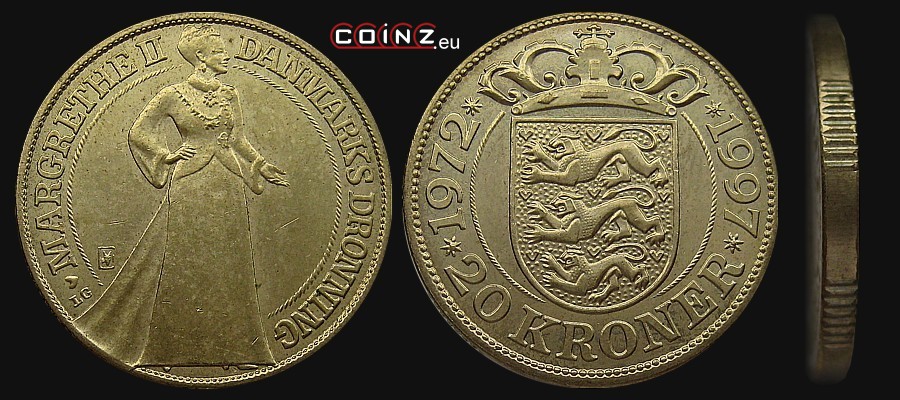 | | | | |
| --- | --- | --- | --- |
| diameter: | weight: | thickness: | alloy: |
| 27.0 mm | 9.3 g | 2.35 mm | Cu92Al6Ni2 |
obverse:
in the coin centre a figure of Queen Margrethe II of Denmark in a long dress and the collar of the Order of the Elephant walking right; along the top edge: MARGRETHE II DANMARKS DRONNING (Margrethe II Queen of Denmark); ring of pearls at the edge
reverse:
in the centre small Coat of Arms of Denmark with a crown; along the left edge date: * 1972 *, along the right one: * 1997 *; along the bottom edge face value: 20 KRONER; ring of pearls at the edge
edge:
seven plain and seven reeded sections
withdrawal date:
still circulating
designer:
Jan Petersen (symbol of fox' head in a frame at the letter M in MARGRETHE on the obverse)
mint:

Den Kongelige Mønt (The Royal Mint), Copenhagen (mint mark before MARGRETHE on the obverse; next to it initials of mint's director Grove LG)
mintage:
| | | |
| --- | --- | --- |
| 1997 | 1 000 000 | + 25 000 in boxed annual sets |
interesting facts:
When it turned out that King Frederick IX and Queen Ingrid would not live to see a male heir, the Parliament was asked to amend the Constitution in such a way that also each of the three daughters of the king had the right to the throne of Denmark. The change was approved in both houses of parliament and a referendum and in 1953 the oldest daughter - Ingrid Margrethe Alexandrine Þórhildur became heir to the throne. King Frederick died on January 14, 1972. The same day Queen Margrethe II sat on the throne of Denmark- the first queen of Denmark, from the death of Queen Margaret I in 1412.
coins catalogue :: katalog monet :: münzkatalog :: catalogue de monnaies :: catálogo de monedas :: catalogo monete :: каталог монет :: κέρματα κατάλογος :: COINZ.eu
© 2010-2021 :: Adam Kubicki :: COINZ.eu :: All rights reserved.