2 euro FINLAND (2010) 150 Years of Finnish Currency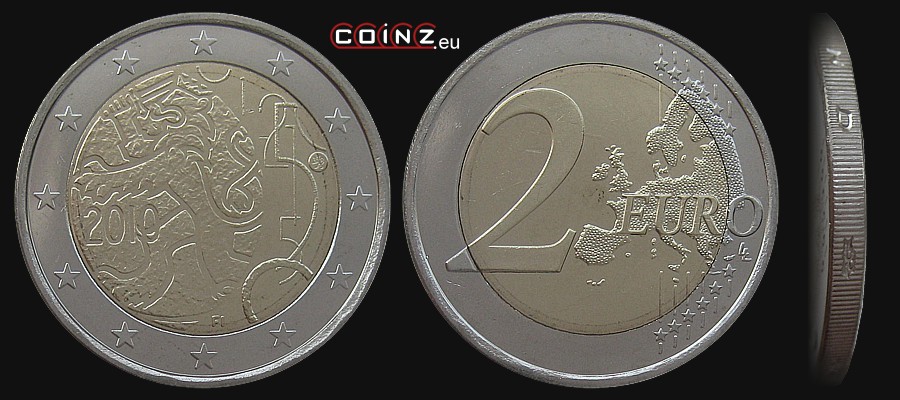 | | | | |
| --- | --- | --- | --- |
| diameter: | weight: | thickness: | alloy: |
| 25.75 mm | 8.5 g | 2.22 mm | Cu75Ni25/Cu75Zn20Ni5 |
obverse:
in the coin centre concave contours of Finnish Coat of Arms; on the left with concave digits year of issue 2010; on the right a set of digist symbolising denominations of first Finnish coins; on the bottom: FI (code for Finland in the ISO 3166-2 standard); at the edge a ring of twelve five-pointed stars - symbol of the European Union
edge:
reeded with concave inscription:

(Finland
in Finnish
and
Swedish
as well as three lion heads)
withdrawal date:
still in circulation
designer:
Reijo Juhani Paavilainen, Luc Luycx (initials LL below letter 'O' in EURO on the reverse)
mint:

Suomen Rahapaja Oy (The Mint of Finland), Vantaa (mint mark after digit 5 at the right edge of the obverse)
mintage:
| | | | |
| --- | --- | --- | --- |
| 2010 | 1 560 000 | | + 15 000 in annual boxed sets |
interesting facts:
Russia strategically cared about their territory of the autonomous Grand Duchy of Finland. By removing Swedes from Finland in 1808 Russians made virtually impossible any Swedish attack to the nearby capital of Russia - St. Petersburg. Finns have used many rights within the autonomy and reaching for even more they asked Russia for their own currency, which was named markka in the result of a competition. On April 4, 1860, Tsar Alexander II issued a decree introducing Finnish markka equal to 25 kopecks of the Russian Silver Ruble [RUES]. Soon after that, on the money used in Finland, Finnish inscriptions and Finnish heraldic lion appeared for the first time. This Finnish commemorative coin of 2 euro from 2010 commemorates the 150th anniversary of the publication of the decree.

In 2010 the mint in Vantaa changed its name from "Rahapaja Oy" (The Mint) to "Suomen Rahapaja Oy" (The Mint of Finland) and the logo with coins falling from cornucopia was replaced with a heraldic Finnish lion in a disk. The new mint mark was placed for the first time on this coin. On other coins the new logo appeared from 2011.
last update: 12 VIII 2013
coins catalogue :: katalog monet :: münzkatalog :: catalogue de monnaies :: catálogo de monedas :: catalogo monete :: каталог монет :: κέρματα κατάλογος :: COINZ.eu
© 2010-2021 :: Adam Kubicki :: COINZ.eu :: All rights reserved.