25 kuna CROATIA (1997) Croatian Danube Region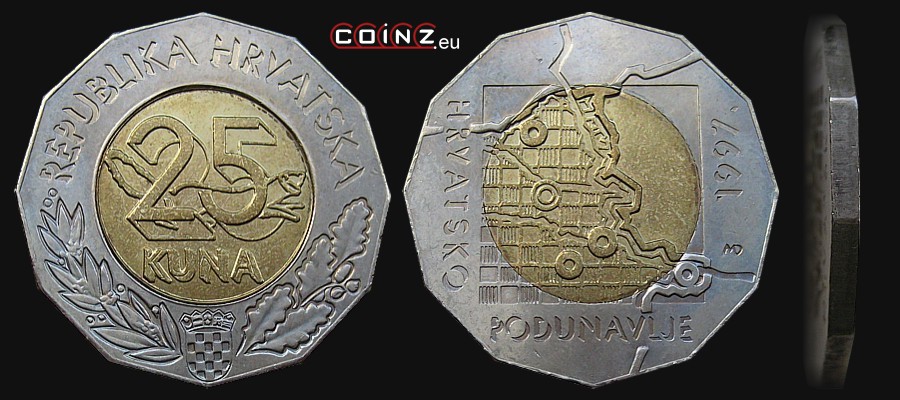 | | | | | |
| --- | --- | --- | --- | --- |
| diameter: | weight: | thickness: | alloy: | shape: |
| 32.0 mm | 12.75 g | 2.1 mm | Cu75Ni25 / Cu92Al6Ni2 | dodecagon |
obverse:
in the centre in two lines face value: 25 / KUNA; in the background marten facing right; below Croatian Coat of Arms in a wreath of laurel branch on the left and oak branch on the right; along the top edge with concave lettering: REPUBLIKA HRVATSKA (Republic of Croatia)
reverse:
in the centre inside a square a schematic map of Croatian Danube Region, where Croatian lands are filled with checkers from Croatian Coat of Arms; along the left side: HRVATSKO, along the bottom one: PODUNAVLJE (Croatian Danube Region), along the right side year of issue 1997.
withdrawal date:
still circulating
designer:
Damir Mataušić (initials MD with concave letters before year of issue on the reverse)
mint:
Hrvatski Novčarski Zavod (Croatian Monetary Institute), Zagreb
interesting facts:
The Croatian Danube Region contains geographic regions of eastern Slavonia, southern Baranja and western Srem. It was affected by a military conflict between Serbs and Croats during the Yugoslavian domestic war. These lands even though separated from Serbia by the Danube River were mostly inhabitated by Serbs. Knowing the military growth of the Serbian Army they requested an independence from Croatia in April 1990 aiming to join the Republic of Serbian Krajina. Croats refused the request, so Krajina announced the independence unilaterally. The conflict turned into a bloody war, which resulted in Serbian conquest of the Croatian Danube Region and Croatian conquest of the Serbian Krajina. The United Nations peaceful mediation led to signing the Erdut Agreement on November 12, 1995. Croats commited to respect Serbian rights in the Danube Region by giving them autonomy, to demilitarise the region with the help of the United Nations and to integrate peacefully the region with Croatia. The first free elections to local government took place on April 13, 1997, what this coin commemorates. The re-integration process was accomplished on January 15, 1998 when Croatia dissolved the region's autonomy.
coins catalogue :: katalog monet :: münzkatalog :: catalogue de monnaies :: catálogo de monedas :: catalogo monete :: каталог монет :: κέρματα κατάλογος :: COINZ.eu
© 2010-2023 :: Adam Kubicki :: COINZ.eu :: All rights reserved.