25 kuna CROATIA (1997) Croatian Esperanto Congress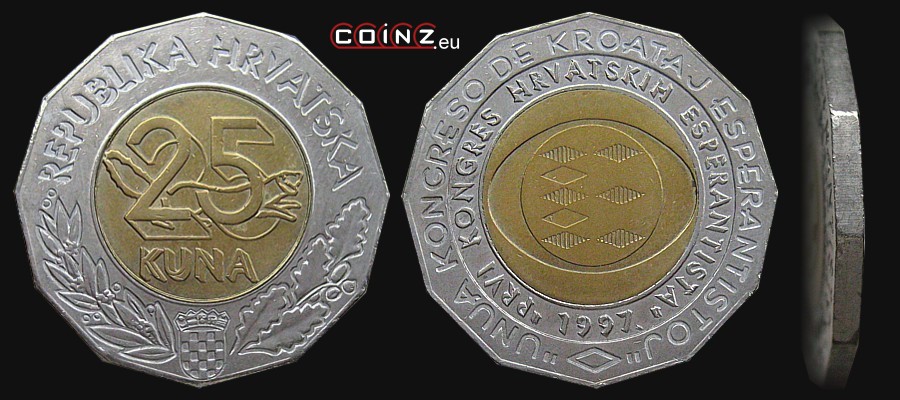 | | | | | |
| --- | --- | --- | --- | --- |
| diameter: | weight: | thickness: | alloy: | shape: |
| 32.0 mm | 12.75 g | 2.1 mm | Cu75Ni25 / Cu92Al6Ni2 | dodecagon |
obverse:
in the centre in two lines face value: 25 / KUNA; in the background marten facing right; below Croatian Coat of Arms in a wreath of laurel branch on the left and oak branch on the right; along the top edge with concave lettering: REPUBLIKA HRVATSKA (Republic of Croatia)
reverse:
in the centre an emblem of the congress; along the inner ring: "PRVI KONGRES HRVATSKIH ESPERANTISTA" and year of issue: 1997.; along the outer ring with concave lettering: ♦ "UNUA KONGRESO DE KROATAJ ESPERANTISTOJ" (The First Croatian Esperanto Congress in Croatian and in Esperanto)
withdrawal date:
still circulating
mint:
Hrvatski Novčarski Zavod (Croatian Monetary Institute), Zagreb
interesting facts:
Esperanto is the most popular artificial language in the world. It was designed by a physician of Jewish origins Ludwik Zamenhof (1859-1917), who grew up in a multilingual Bialystok and found that the only way to agreement between nations leads through a neutral language. A handbook to learn a new language issued in 1887 in Russian under the pseudonym Dotoro Esperanto (literally: "Hoping Doctor"). Already two years later, five young Croats started learning Esperanto in the town of Osijek. In 1908 in Zagreb the first Croatian Esperanto Association was founded. A year later the first Esperanto textbook for the Croats was issued, and in 1911 the first Croatian book was translated. Croatia was hosting many times regular World Congresses of Esperanto enthusiasts. And finally, on May 31 and June 1, 1997 Croatian Esperantists held their first national meeting in Zagreb. This coin commemorates the event.
Also stamps with Ludwik Zamehof commemorate the first Croatian Esperanto Congress.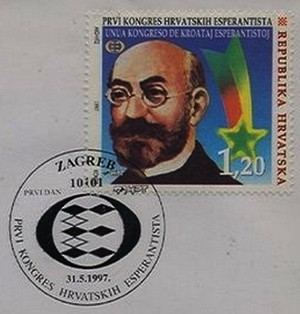 coins catalogue :: katalog monet :: münzkatalog :: catalogue de monnaies :: catálogo de monedas :: catalogo monete :: каталог монет :: κέρματα κατάλογος :: COINZ.eu
© 2010-2023 :: Adam Kubicki :: COINZ.eu :: All rights reserved.