25 kuna CROATIA (2002) 10th Anniversary of Recognision of Croatia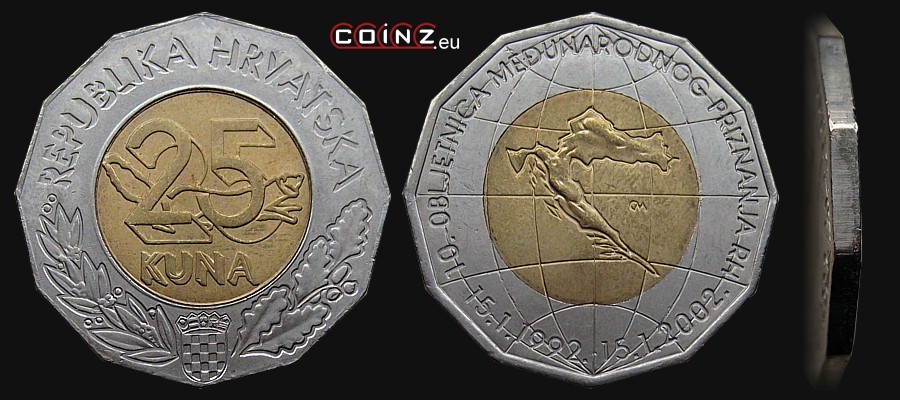 | | | | | |
| --- | --- | --- | --- | --- |
| diameter: | weight: | thickness: | alloy: | shape: |
| 32.0 mm | 12.75 g | 2.1 mm | Cu75Ni25 / Cu92Al6Ni2 | dodecagon |
obverse:
in the centre in two lines face value: 25 / KUNA; in the background marten facing right; below Croatian Coat of Arms in a wreath of laurel branch on the left and oak branch on the right; along the top edge with concave lettering: REPUBLIKA HRVATSKA (Republic of Croatia)
reverse:
in the centre a map of Croatia; in the background of the entire reverse a globe of meridians and parallels; along the top edge with concave lettering: 10. OBLJETNICA MEĐUNARODNOG PRIZNANJA RH (10th anniversary of international recognision of the Republic of Croatia); along the bottom edge dates: 15.1.1992. - 15.1.2002
withdrawal date:
still circulating
designer:
Damir Mataušić (initials DM with concave letetrs in the middle of the reverse)
mint:
Hrvatski Novčarski Zavod (Croatian Monetary Institute), Zagreb
interesting facts:
Croatia declared independence on June 25, 1991 after the results of the referendum of May 19 had been announced that 94% of the voters supported the sovereignty. There were however, several issues unsolved in order to be recognised worldwide. These included border agreements and updating the constitution so it contained rights for minorities. But Germany did not wait for Croatian updates and on December 16 it officially recognised Croatia. The other European Union countries surprised by the German decision asked Croatia to fulfill the formalities in one month. Croatia dealt with the task successfully and on January 15, 1992 it was recognised by the European Union as independent country. This coin commemorates the 10th anniversary of this event.
coins catalogue :: katalog monet :: münzkatalog :: catalogue de monnaies :: catálogo de monedas :: catalogo monete :: каталог монет :: κέρματα κατάλογος :: COINZ.eu
© 2010-2023 :: Adam Kubicki :: COINZ.eu :: All rights reserved.