25 kuna CROATIA (2004) Croatian Candidacy for the EU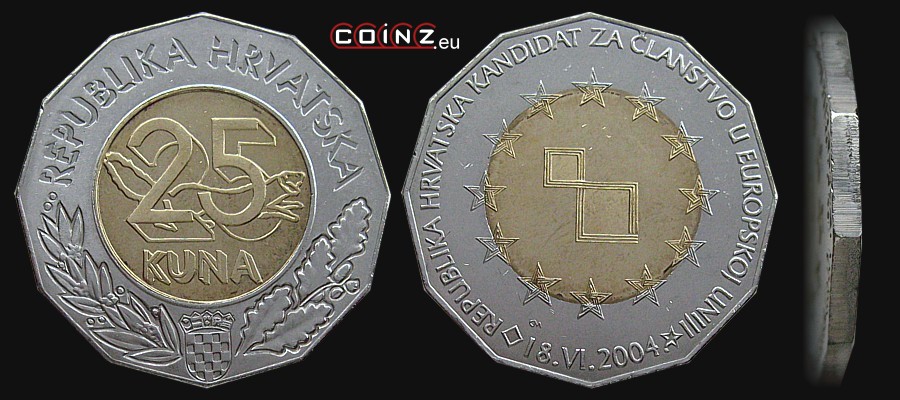 | | | | | |
| --- | --- | --- | --- | --- |
| diameter: | weight: | thickness: | alloy: | shape: |
| 32.0 mm | 12.75 g | 2.1 mm | Cu75Ni25 / Cu92Al6Ni2 | dodecagon |
obverse:
in the centre in two lines face value: 25 / KUNA; in the background marten facing right; below Croatian Coat of Arms in a wreath of laurel branch on the left and oak branch on the right; along the top edge with concave lettering: REPUBLIKA HRVATSKA (Republic of Croatia)
reverse:
in the centre a small square symbolising Croatia is joined with a large square symbolising the European Union; around them a ring of 12 five-pointed stars - symbol of the EU; along the top edge: ♦ REPUBLIKA HRVATSKA KANDIDAT ZA ČLANSTVO U EUROPSKOJ UNIJI * (Republic of Croatia - a candidate for the member of the European Union); along the bottom edge a date: 18.VI.2004.
withdrawal date:
still circulating
designer:
Damir Mataušić (initials DM above numeral 18 on the bottom of the reverse)
mint:
Hrvatski Novčarski Zavod (Croatian Monetary Institute), Zagreb
interesting facts:
Croatia officially started efforts for the EU membership by signing the Stabilisation and Association Agreement in 2001, which assumed a transition period for a candidate to adjust the national law to the European one. After two years Croatia applied for the membership. On June 18, 2004 the European Council granted Croatia status of the country-candidate for the European Union - therefore this date is commemorated on the coin's reverse. In October 2005 the EU launched the accession negotiations with Croatia, which finished on June 20, 2011. Croatia became the EU member on July 1, 2013.
coins catalogue :: katalog monet :: münzkatalog :: catalogue de monnaies :: catálogo de monedas :: catalogo monete :: каталог монет :: κέρματα κατάλογος :: COINZ.eu
© 2010-2023 :: Adam Kubicki :: COINZ.eu :: All rights reserved.