20 złotych POLAND (1974) 25 Years of Comecon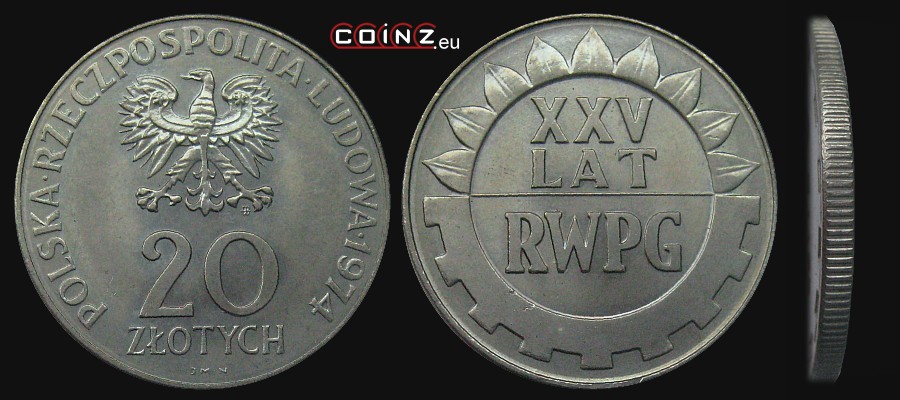 | | | | |
| --- | --- | --- | --- |
| diameter: | weight: | thickness: | alloy: |
| 29.0 mm | 10.15 g | 2.15 mm | CuNi |
obverse:
above the centre eagle - Coat of Arms, below face value: 20, lower: ZŁOTYCH; along the top edge: POLSKA • RZECZPOSPOLITA • LUDOWA • 1974 (Poeple's Republic of Poland 1974)
reverse:
in the centre in three lines: XXV / LAT / RWPG (25 years of Comecon), around it a ring, whose bottom part is a gear and the top part is a petal of sunflower
withdrawal date:
1 I 1995
designer:
Józef Markiewicz-Nieszcz (initials JM-N at the bottom edge of the obverse)
mint:

Mennica Państwowa (The State Mint), Warsaw (mint mark on the obverse under eagle's left foot)
interesting facts:
Comecon (Council for Mutual Economic Assistance) - organisation founded in 1949 by the Soviet Union as an answer to Marshall plan to rebuild Europe after World War II. Soviet Union forced Eastern European countries to refuse the money coming from Marshall Plan and instead offered them participation in the Comecon, which was a Soviet plan to rebuild this part of Europe. There were 11 members of the Comecon in 1978: Albania, Bulgaria, Cuba, Czechoslovakia, East Germany, Hungary, Mongolia, Poland, Romania, USSR and Vietnam). The Council existed until 1991.
coins catalogue :: katalog monet :: münzkatalog :: catalogue de monnaies :: catálogo de monedas :: catalogo monete :: каталог монет :: κέρματα κατάλογος :: COINZ.eu
© 2010-2023 :: Adam Kubicki :: COINZ.eu :: All rights reserved.