2 euro GERMANY (2013) Élysée Treaty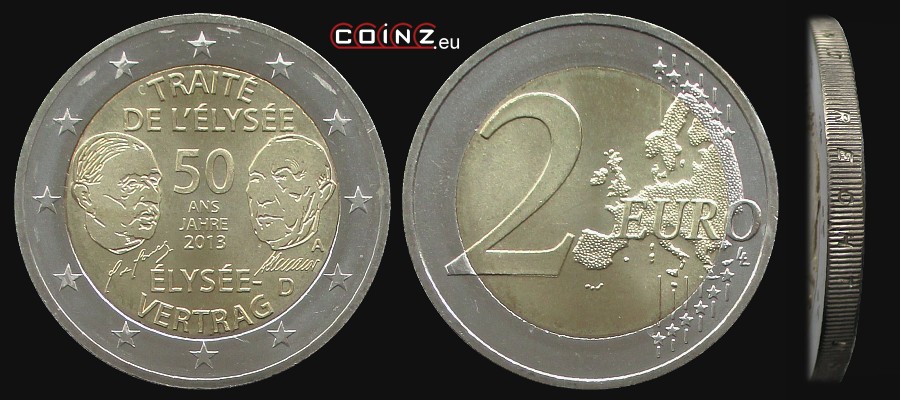 | | | | |
| --- | --- | --- | --- |
| diameter: | weight: | thickness: | alloy: |
| 25.75 mm | 8.5 g | 2.22 mm | Cu75Ni25/Cu75Zn20Ni5 |
obverse:
in the coin centre in four lines: 50 / ANS / JAHRE / 2013 (50 years in French and German and year of issue); on the left head of Charles de Gaulle facing slightly right with his signature below; on the right head of Konrad Adenaeuer facing slightly left with his signature below; below the head letter: D (DEUTSCHLAND - Germany); on top of the coin in two lines: TRAITÉ / L'ÉLYSÉE, on the bottom in two lines: ÉLYSÉE- / VERTRAG (Élysée Treaty in French and German); at the edge a ring of twelve five-pointed stars - symbol of the European Union
edge:
reeded with concave inscription:

(unity and justice and liberty and eagle from German Coat of Arms)
withdrawal date:
in circulation
designer:
Yves Sampo, Stefanie Lindner, Luc Luycx (initials LL below letter O in EURO in the reverse)
mint:
(A)
Staatliche Münze Berlin (The State Mint Berlin), Berlin;
(D)
Bayerisches Hauptmünzamt (The Bavarian Main Mint), Munich;
(F)
Staatliche Münzen Baden-Württemberg (State Mints of Baden-Wuerttemberg), Stuttgart;
(G)
Staatliche Münzen Baden-Württemberg (State Mints of Baden-Wuerttemberg), Karlsruhe;
(J)
Hamburgische Münze (The Hamburg Mint), Hamburg
(relevant mint mark under Adenauer's ear in the obverse)

mintage:
A
D
F
G
J
2013
2 200 000
+ 42 500 *
2 310 000
+ 36 100 *
2 640 000
+ 36 100 *
1 540 000
+ 36 100 *
2 310 000
+ 36 100 *
* in annual sets
interesting facts:
Commemorative coin with face value of 2 euro from 2013 commemorates the 50th anniversary of the Elysée Treaty on Franco-German cooperation. The treaty assumed regular summits of state authorities, during which there will be consulted cooperation in the field of foreign policy, defense, culture and education. This treaty was signed in the Elysee Palace in Paris on January 22, 1963, barely 18 years after World War II, and after centuries of military rivalry between Germany and Germany. The Treaty was thus a symbol of reconciliation between nations and a milestone in the process of unification of Europe in the European Union
Signing of the Elysée Treaty. Sitting from left to right: Minister Gerhard Schröder, Chancellor Konrad Adenauer, President Charles de Gaulle, Prime Minister Georges Pompidou and Minister Maurice Couve de Murville.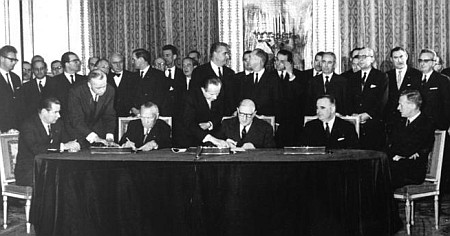 photo: Deutsches Bundesarchiv (German Federal Archive);
author: Jens Gathmann; licence: CC-BY-SA 3.0
In order to emphasize that the Franco-German cooperation still continues after 50 years, also this coin is designed and issued together. The obverse picture is the joint work of a Frenchman and a German woman, and the final result was issued separately by Germany and by Germany on the same day. Issues differ from each other only by the names of issuers, mint marks and edge inscriptions.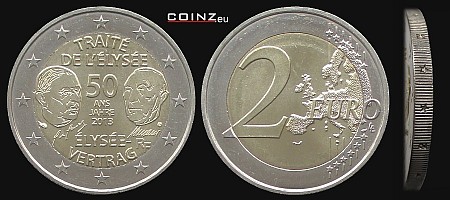 coins catalogue :: katalog monet :: münzkatalog :: catalogue de monnaies :: catálogo de monedas :: catalogo monete :: каталог монет :: κέρματα κατάλογος :: COINZ.eu
© 2010-2021 :: Adam Kubicki :: COINZ.eu :: All rights reserved.