5 złotych POLAND (2014) Discover Poland - 25 Years of Freedom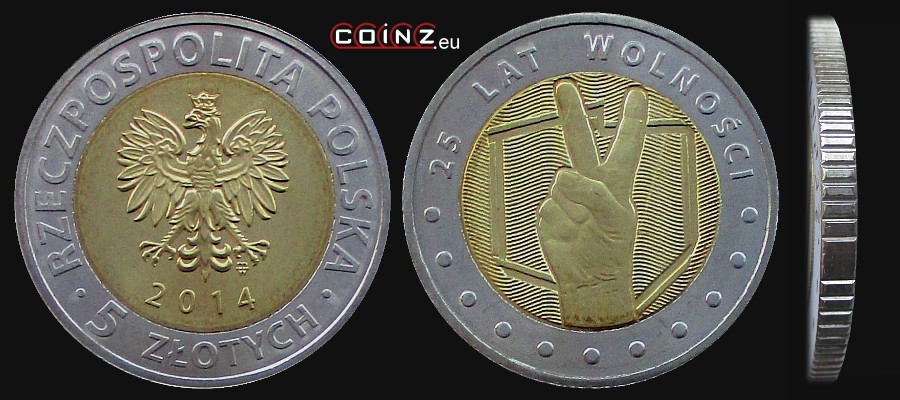 | | | | |
| --- | --- | --- | --- |
| diameter: | weight: | thickness: | alloy: |
| 24.0 mm | 6.54 g | 2.0 mm | Cu75Ni25 / Cu92Al6Ni2 |
obverse:
in the coin centre crowned eagle - Polish Coat of Arms; below year of issue: 2014; along the top edge: • RZECZPOSPOLITA POLSKA • (Republic of Poland); along the bottom edge face value: 5 ZŁOTYCH
reverse:
in the coin centre right hand with fingers showing a gesture of Victory - letter 'V'; in the background simplified contour of map of Poland; the central core filled with wavy lines; along the top edge: 25 LAT WOLNOŚCI (25 years of freedom); along the bottom edge 11 disks
withdrawal date:
circulating
designer:
Dobrochna Surajewska
mint:

Mennica Polska S.A. (The Mint of Poland JSC), Warsaw (mint mark on the obverse under eagle's left foot)
interesting facts:
Commemorative coin with face value 5 złotych from 2014 commemorates the 25th anniversary of the first (partially) free elections in Poland. On February 6, 1989, after another wave of strikes, the communist government finally decided to negotiate with the protesting opposition represented by the trade union Solidarity (NSZZ Solidarność). It was decided at the Round Table, inter alia, that the elections will be announced, of which 65% of the parliament would be guaranteed for the Communist Party, but remaining 35% of the parliament and 100% of the newly created Senate would be elected in open and democratic elections for the first time since World War II. The elections were held on June 4 and 18, 1989. The result of the voting became a worldwide sensation. The opposition won all the possible 35% in parliament and 99% in the Senate. Polish communists were completely surprised that they have almost no support in the country. A communist candidate for the prime minister was not approved by the new parliament, in contrast to the opposition candidate. The first prime minister became Tadeusz Mazowiecki and Poland became the first satellite country of the Soviet Union, which achieved freedom. The last Russian troops left Poland on September 17, 1993.
The first Prime Minister of independent Poland Tadeusz Mazowiecki is showing the gesture of victory shortly after his first exposé. This gesture was popularized during the World War II by Winston Churchill - British Prime Minister.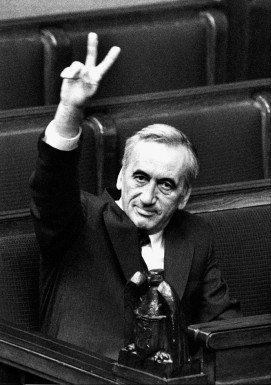 thematic series:
In 2014 the National Bank of Poland completed the issue of commemorative 2-złoty coins the Golden Nordic alloy and started issuing 5-zloty coins in the standard alloy. The first series of coins was called "Discover Poland" and the following coins belong to the series at the moment:
coins catalogue :: katalog monet :: münzkatalog :: catalogue de monnaies :: catálogo de monedas :: catalogo monete :: каталог монет :: κέρματα κατάλογος :: COINZ.eu
© 2010-2023 :: Adam Kubicki :: COINZ.eu :: All rights reserved.