5 złotych POLAND (2014) Discover Poland - Royal Castle in Warsaw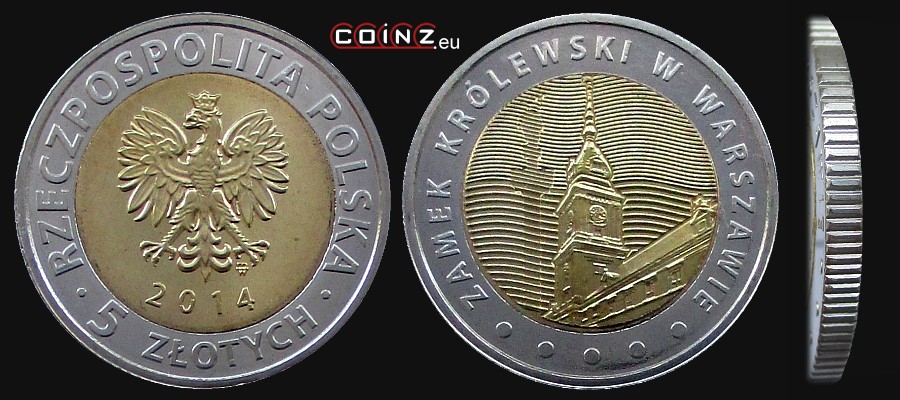 | | | | |
| --- | --- | --- | --- |
| diameter: | weight: | thickness: | alloy: |
| 24.0 mm | 6.54 g | 2.0 mm | Cu75Ni25 / Cu92Al6Ni2 |
obverse:
in the coin centre crowned eagle - Polish Coat of Arms; below year of issue: 2014; along the top edge: • RZECZPOSPOLITA POLSKA • (Republic of Poland); along the bottom edge face value: 5 ZŁOTYCH
reverse:
in the coin centre tower of the Royal Castle in Warsaw; in the background the central core filled with wavy lines; on the left among the waves a concave shape of the Sigismund's Column; along the top edge: ZAMEK KRÓLEWSKI W WARSZAWIE (Royal Castle in Warsaw); along the bottom edge 5 disks
withdrawal date:
circulating
designer:
Dobrochna Surajewska
mint:

Mennica Polska S.A. (The Mint of Poland JSC), Warsaw (mint mark on the obverse under eagle's left foot)
interesting facts:
Commemorative coin with a face value of 5 złotych from 2014 was issued to promote Poland by presenting the Royal Castle in Warsaw. A town in a place of the crossing of the Vistula River named Warsaw was built at the turn of the 13th and 14th centuries. Already 100 years later it became the capital of the Duchy of Mazovia. In 1596 King Sigismund III Vasa moved the capital from Cracow to Warsaw and the Warsaw castle became the royal castle. In honor of the King in 1644 his bronze sculpture was placed on a high column in front of the castle. The castle itself repeatedly expanded and decorated became a symbol of the Polish nation. After the occupation of Warsaw in World War II Germans stripped the interior from the floors up to the cornices and blew up the empty building in 1944. Practically only cellars survived. Only in 1971 it was decided to rebuild the castle. The works were officially completed in 1988 and the castle became for the Poles also a symbol of rebirth. In 1980 the Royal Castle, together with the reconstructed part of the Old Town was placed on the list of World Heritage Sites of UNESCO.
The ruins of the Royal Castle in Warsaw in 1945 and the appearance of the castle today.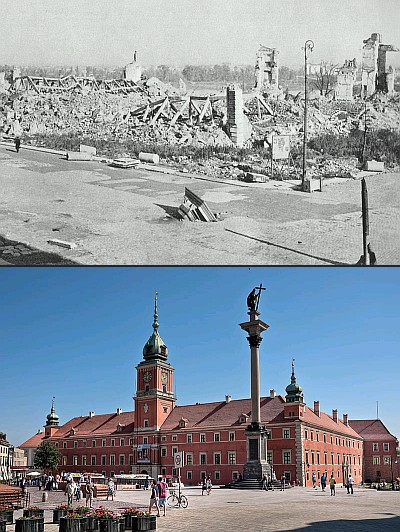 thematic series:
In 2014 the National Bank of Poland completed the issue of commemorative 2-złoty coins the Golden Nordic alloy and started issuing 5-zloty coins in the standard alloy. The first series of coins was called "Discover Poland" and the following coins belong to the series at the moment:
coins catalogue :: katalog monet :: münzkatalog :: catalogue de monnaies :: catálogo de monedas :: catalogo monete :: каталог монет :: κέρματα κατάλογος :: COINZ.eu
© 2010-2023 :: Adam Kubicki :: COINZ.eu :: All rights reserved.